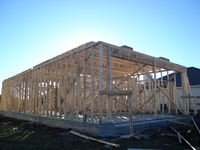 BUILDER FACT
Do you know the local Builders like I do? Do you know the good ones......and the ones you should avoid? I do. I know them all very well. I know what they will or will not do and I also know how to deal with these guys.
Have you ever bought a car? Did you get the feeling that the dealer was gonna stick-it to you? It was you against the dealer.....and you had no one your side. Now let's pretend that just before you walked into the dealership someone offered to help you......and it would not cost you a dime? Someone that had experience in buying & selling cars and this person knew all the tricks of the trade. Would you feel more confident walking into that dealership knowing that someone was watching your back? That's what I do.....except I'm in the business of buying & selling homes.
Question: Since my services to you as a Home Buyer are 100% free, why would you want to deal with that builder by yourself? Bottom line.......don't buy from a Builder without a Realtor representing you.